Lake 'N Pines Lodge – Sled -N- Treads Package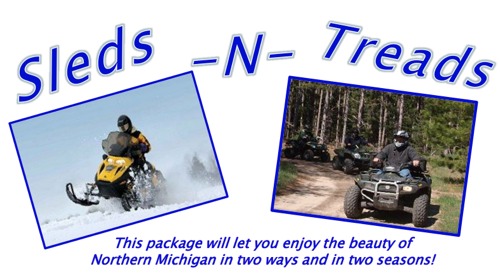 Located in Grand Traverse County with some of the best snowmobiling trails, restaurants and scenery in the state. We offer a unique opportunity to not only take to the trails but enjoy special amenities to make this your best winter getaway ever. Only 15 minutes from Downtown Traverse City!
Our Sled -N- Treads package will let you enjoy the beauty of Northern Michigan in two ways and in two seasons!
Snow Lovers – groomed trails weave you between numerous towns complemented by taverns and restaurants for a snowmobile experience like no other. Your adventure starts at a
trail head that is located next to Crystal Adventures. (Dec 1- March 31)
Sun Lovers – The Benzie County ATV trail system consists of many 2 tracks & non-maintained county roads. A great ride thru the National Forest with plenty of streams to visit. It will show you some of the area's most beautiful landscape! (April 1st – Nov 30)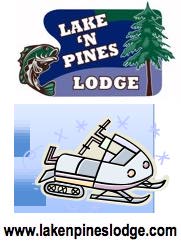 Package includes:
• 2 Nights Accommodations
• Snack Pack for the trails
• Bottle of Wine from an award winning Local Vineyard
• 2 Lake 'N Pines Wine Glasses
• Made to Order Breakfast each day
• Choice of (2) Snowmobile & Helmet Rentals for 1-4 hours (Dec- March)
Or:
• (2) ATV & Helmet rentals for 1-4 hours (April – Nov)
• Maps & Instruction Course
Choice of (2) Snowmobile & Helmet Rentals for 1-4 hours (Dec- March) Or:
(2) ATV & Helmet rentals for 1-4 hours (April – Nov)
Maps & Instruction Course
**Check the website for room selection & pricing
Lake 'N Pines Lodge
10354 Mud Lake Road
Interlochen, MI 49643
231-275-6671
<>
Visit Lake 'N Pines Lodge Website >>>>
<>
[gmap name='lakenpines' lat='44.676153′ lng='-85.785295′ zoom='10' desc='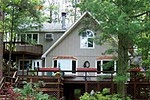 Lake 'N Pines Lodge
10354 Mud Lake Road
Interlochen, MI 49643
231-275-6671
Visit Website']
<>