The 2014 Tree Line to Canada is now CLOSED FOR SEASON!!
NEWS RELEASE U.S. CUSTOMS AND BORDER PROTECTION
SAULT STE MARIE, MI – U.S. Customs and Border Protection (CBP) Field Operations today announced the anticipated closure of the Drummond Island reporting station for the 2014 winter snowmobile season.
With the approach of the spring shipping season the U.S. Coast Guard is scheduled to break up the ice around Drummond Island starting on the 24th of March.
Scheduled reporting services ended on the island March 23, 2014 at 10 p.m.
A complete list of authorized ports of entry can be found at www.cbp.gov.
—————–
WHAT YOU NEED TO KNOW:
Travelers entering from Canada must report directly to the reporting station on Drummond Island during the established hours of 2 p.m. to 10 p.m. Friday through Sunday. The number of days that the reporting station is open has been reduced due to the low volume of people using the ice bridge. The Drummond Island reporting station will be closed this year Monday through Thursday. The official CBP Reporting Station is located at the Drummond Island Yacht Haven Dock.
Entering at any other location or outside of these hours is prohibited and violators could be assessed a $5000 fine.
Planning ahead can expedite your crossing:
• Proper documents include passports, passport cards, enhanced driver's licenses and CBP's Trusted Traveler Cards – NEXUS, FAST and SENTRI.
• Be prepared to declare merchandise purchased or acquired in Canada.
• Declare "Duty-Free goods" even if purchased at "Duty-Free" stores.
• Before leaving for the trip, obtain a "Know Before You Go" brochure available on the CBP Web page, www.cbp.gov.
• Do not attempt to bring unauthorized fruits, meats, and dairy products into the United States.
• Do not attempt to import prohibited items, such as Cuban cigars. A complete list of restricted/prohibited goods can be obtained at www.cbp.gov.
For more information about obtaining a passport or passport card, please visit the Department of State website at www.travel.state.gov.
For additional information on states issuing enhanced driver's licenses or any of CBP's trusted traveler programs, which are document options under the Western Hemisphere Travel Initiative (WHTI), please visit the CBP website at www.cbp.gov.
800-999-6343
One of the truly unique features of Drummond Island snowmobiling is the International Ice Bridge To Canada. Sometime during the middle of winter, ice around Drummond Island hardens to a safe depth, and Christmas trees begin appearing at the big dock on the island. On a particular Saturday snowmobilers get together to create an ice highway — marked by Christmas trees and reflectors — that leads over the horizon to the nearest Canadian Island, St. Joseph Island.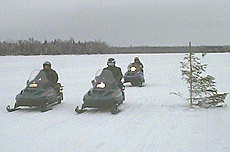 Then the fun begins. Snowmobiles travel the ice safely, using the markers for night travel or in snowy weather to connect thousands of miles of trails in Ontario.
The "ice bridge" opens up a whole new geography of high granite outcroppings and hundreds of inland lakes and streams. The clearly marked and well used trail can either bring you to warm Canadian hospitality, or let you enjoy a day gliding among the hundreds of islands and bays of the North Channel. The ice bridge is a favorite local route, and if you ask anyone, they'll be glad to share the secret.
Canadian Snowmobile Trails Information

Algoma Country Snowmobile Trails
St. Joseph Island / Algoma Trail Maps
St. Joseph Island Voyageurs Snowmobile Club
– – – – – Drummond Island Lodging Packages – – – – –